Nationally recognized specialists in veterinary critical care lead our ICU team, providing compassionate critical care 24/7/365 to pets recovering from trauma, surgery or acute illness. As a VECCS Certified Level I emergency and critical care facility, you can be sure that Avets' ICU offers the best critical care available for your pet. Our team's combined efforts ensure a multidisciplinary approach to your pet's ICU experience, with experts from different specialties weighing in on each patient daily. Communication and collaboration are our greatest resources in caring for your pet.
Our team provides the highest level of care for pets with life-threatening conditions.
Treatment of hospitalized patients through our critical care service includes:
Artificial organ support (oxygen therapy, ventilator therapy, specialized fluid support)
Blood transfusion
Arterial blood gas
Status epilepticus treatments
Vasopressor therapy
Multimodal analgesia
Polytrauma management
Emergency airway management
Parenteral nutrition
Continuous chest drainage
Critically ill patient post-op management
Diagnostic procedures
Diagnostic imaging
Mechanical ventilation
Respiratory therapy
Treatment for life-threatening toxicities (poisonings)
Treatment of sepsis and critical illness
Treatment of kidney and liver failure
Trauma care
Avets is a VECCS Level I Certified Facility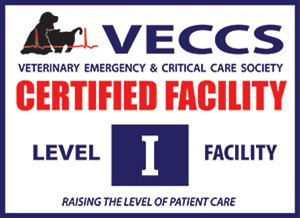 In order to raise the standard of care and increase public and professional awareness, the Veterinary Emergency and Critical Care Society (VECCS) now offers a certification program to veterinary facilities that provide emergency and critical patient care. Through this program, VECCS recognizes hospitals that meet and exceed minimum standards and guidelines.
This certification program identifies three levels (I through III) based on facility operating hours, equipment, and personnel. Avets is proud to be ranked as a Level I facility.
According to VECCS, "A Level I emergency and critical care facility is a 24-hour acute care facility with the resources and specialty training necessary to provide sophisticated emergent and critical patient care. This facility is open to receive small animal emergency patients 24 hours a day, 7 days a week, 365 days a year. The level I facility must have a Diplomate of the American College of Veterinary Emergency and Critical Care employed full time and available for consultation either on-site or by phone 24/7."
For more information, please visit www.veccs.org