We provide compassionate emergency care 24/7/365 to pets who have undergone trauma, acute illness, or require urgent care or emergency surgery. Nationally recognized specialists, criticalists, and specialized veterinary technicians lead our emergency team, a dedicated group of experienced emergency clinicians, certified veterinary technicians, specialized veterinary technicians, and veterinary assistants. As a VECCS Certified Level I emergency and critical care facility, you can be sure that Avets offers the best emergency care available for your pet. Continued or follow-up care is available through Avets' ICU, our specialists (e.g. in surgery, internal medicine), or through your primary care veterinarian.
Emergency Services
You know your pet better than anyone! If your instincts tell you something's wrong, listen to them and call us. We're always here for you, 24 hours a day, 7 days a week, and we welcome walk-ins. Avets will provide your pet with excellent, compassionate care while offering you courteous service.
Call Avets immediately at 412.373.4200 if your pet:
Has been hit by a car
Has been poisoned
Is bleeding
Is vomiting excessively
Is having a seizure
Is having trouble urinating
Is experiencing excessive diarrhea
Is having difficulty breathing
Is having difficulty giving birth
Avets is a VECCS Level I Certified Facility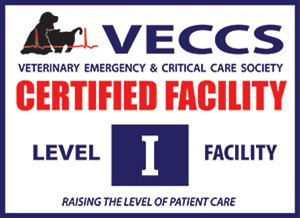 To raise the standard of care and increase public and professional awareness, the Veterinary Emergency and Critical Care Society (VECCS) now offers a certification program to veterinary facilities that provide emergency and critical patient care. Through this program, VECCS recognizes hospitals that meet and exceed minimum standards and guidelines.
This certification program identifies three levels (I through III) based on facility operating hours, equipment, and personnel. Avets is proud to be ranked as a Level I facility.
According to VECCS, "A Level I emergency and critical care facility is a 24-hour acute care facility with the resources and specialty training necessary to provide sophisticated emergent and critical patient care. This facility is open to receive small animal emergency patients 24 hours a day, 7 days a week, 365 days a year. The level I facility must have a Diplomate of the American College of Veterinary Emergency and Critical Care employed full time and available for consultation either on-site or by phone 24/7."
For more information, please visit www.veccs.org